The 7th edition of GameCamp in Warsaw was also packed with top speakers from top companies and we couldn't miss it. The following article is a brief summary of what we have learned from the presentations and networking.
Key Takeways:
The need of mediation and optimization of the waterfall in ad monetization (adding additional ad networks, adding their SDKs, experimenting with manual set up of eCPM floors, instances..)

Benefits of user segmentation and personalization of the offers

Personalization should be the first thing that needs to be done if we want to increase the revenue

It's possible to determine the gaming profile and the player's paying potential in the future with a certain probability even from the behavior in D0

It's advisable to use Firebase in addition to Appsflyer for the event tracking (they can run simultaneously) as Firebase sends more data to the UAC and delivers user behavior data

The Misleading Ads phenomenon continues - gaming studios can scale their UA, even when the game has nothing to do with a creative, but it works

The featuring today on Google Play or App Store is not what it used to be, same as the organic traffic. You need to have a sustainable game that is ROI positive via UA and not rely on organic traffic or featurings. While you could have millions of users from a feature 2-3 years ago, you'll have "only" a few thousand nowadays

AdMob: the Open Bidding public beta should be available in early 2020

The interest in the sports category decreased even more in 2019, the number of downloads decreased compared to 2018

Google for Startups Accelerator Program announcement: PowerPlay Studio was picked with 9 other international studios
1.MONETISATION TRENDS BASED ON THE DATA
Speaker: Mariusz Gasiewski, Google
Mariusz showed us numbers that compares monetization in game industry. As you can see on graphs, the number of payers in mobile games is constantly increasing compared to computer and console games.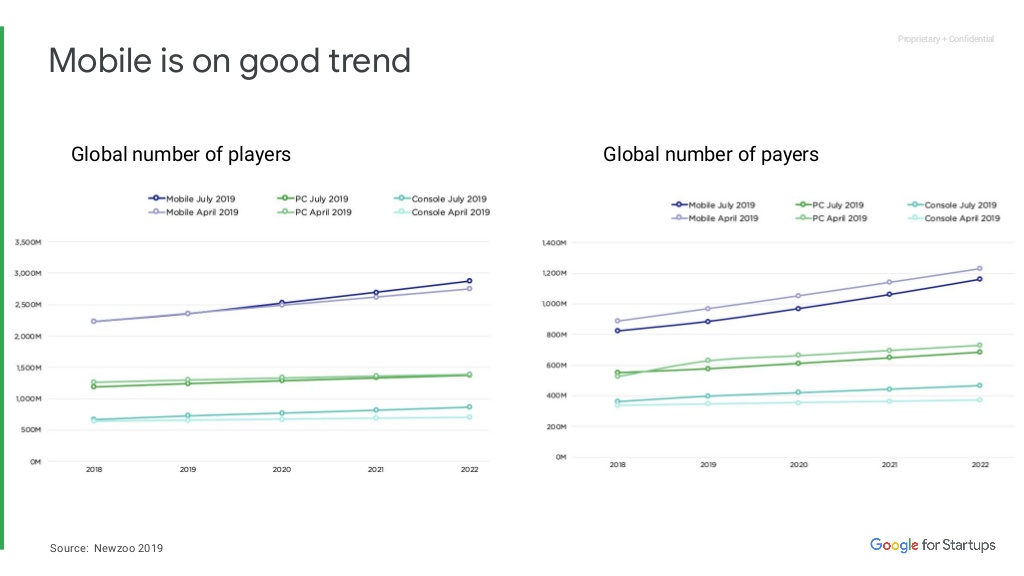 Revenue of top games on iOS and Android platform are growing as well.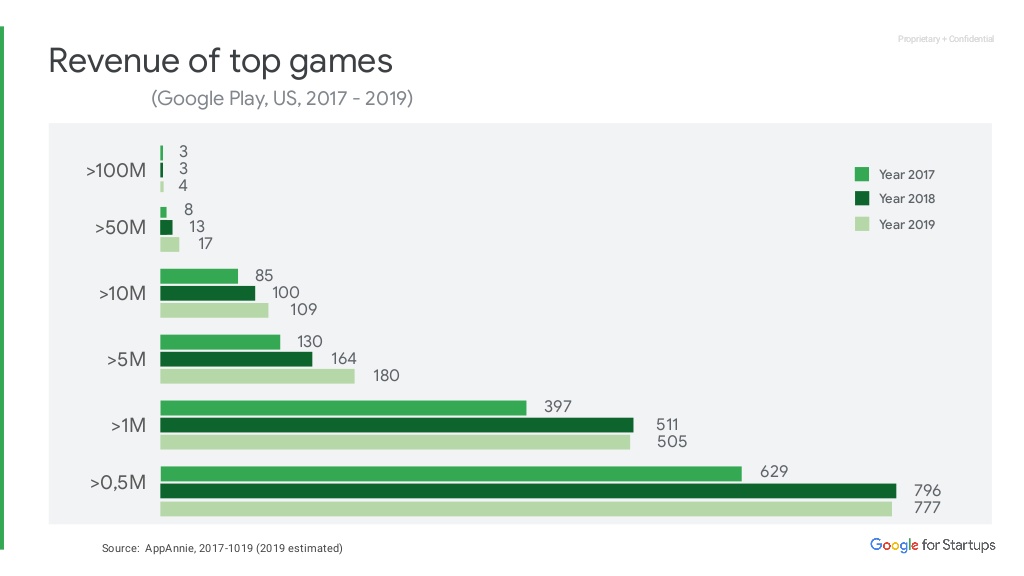 The next picture shows a comparison of downloads and revenue based on genres for the third quarter of 2019. The interesting thing is that Arcade, Puzzle and Hypercasual games had many downloads, but a small revenue. However, it is true that only IAPs (in-app purchases) were taken into account when determining revenue. If IAA revenues were added, the results would probably be different. Also noteworthy are genres such as Match 3, Turn based RPGs, Slots, Strategy and RTS, which generate huge revenue via IAP with relatively few downloads.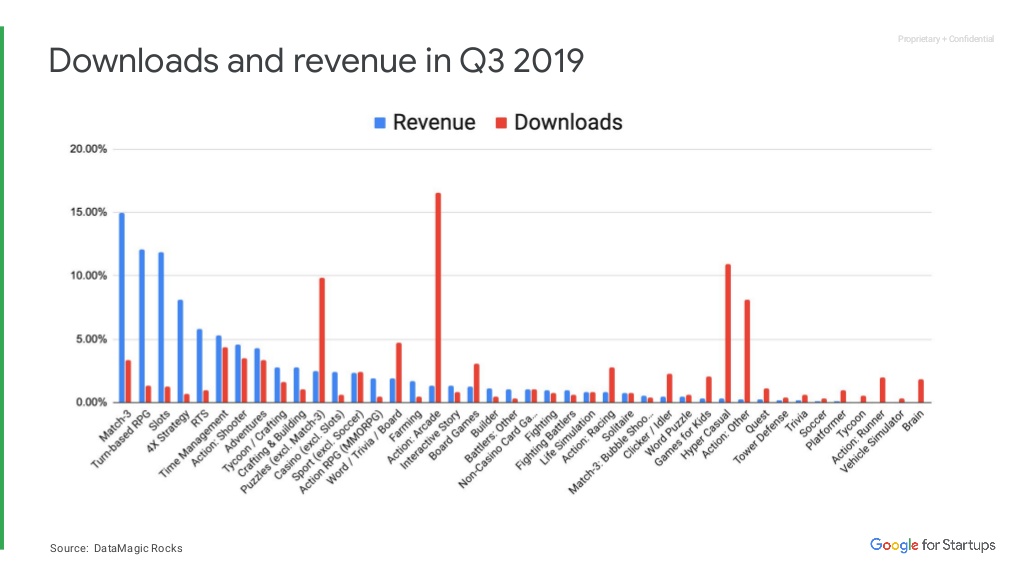 2. MONETISATION IN HYPER CASUAL: WHAT IS NOW AND WHAT IS NEXT?
Speaker: Christian Calderon, GameJam
GameJam's Christian Calderon described the individual monetization models and their flaws in the context of their development.
1. Premium pricing model (2007 - 2010) - contains neither IAP nor IAA
The only earnings were from the purchase of the game. It was a very limited model because even though players wanted to spend more money, they did not have the opportunity.
2. Freemium pricing model (2012 - 2017)
The IAP has already been implemented in this model, but the IAA is still missing. Revenue is generated only from the payments in the game, as the game is free. While this model is an improvement over the previous model as it provides people with the opportunity to spend money in the game, it still does not utilize the potential of non paying users.
3. There has been a boom in IAA since 2018. The game studios can finally utilize the non paying users and earn revenue from players watching ads.
The most important finding from this lecture was that it is necessary to experiment with the mediation to be successful. It's not a good idea to leave everything for automatic optimization. Experiment constantly by manually setting the eCPM floors and instances. Header bidding is something to pay attention to as well these days and can be the future of ad monetization.
3. LESSONS FROM 9 YEARS OF LOCOMOTIVE OFFERS: DATA BASED USER SEGMENTATION AND MONETIZATION. TRAINSTATION CASE STUDY.
Speaker: Martin Gajarsky, PixelFederation
The Pixel Federation lecturer shared with us their findings. For example, that users like the new content. Up to 66% of the gems spent in 2019 in their game Trainstation were spent on new content (specifically on new locomotives)
He also stressed the need to incorporate the monetization early. Many developers do not want to look like they only go after the money, so they postpone monetization until later and they often start dealing with it only when they run out of resources.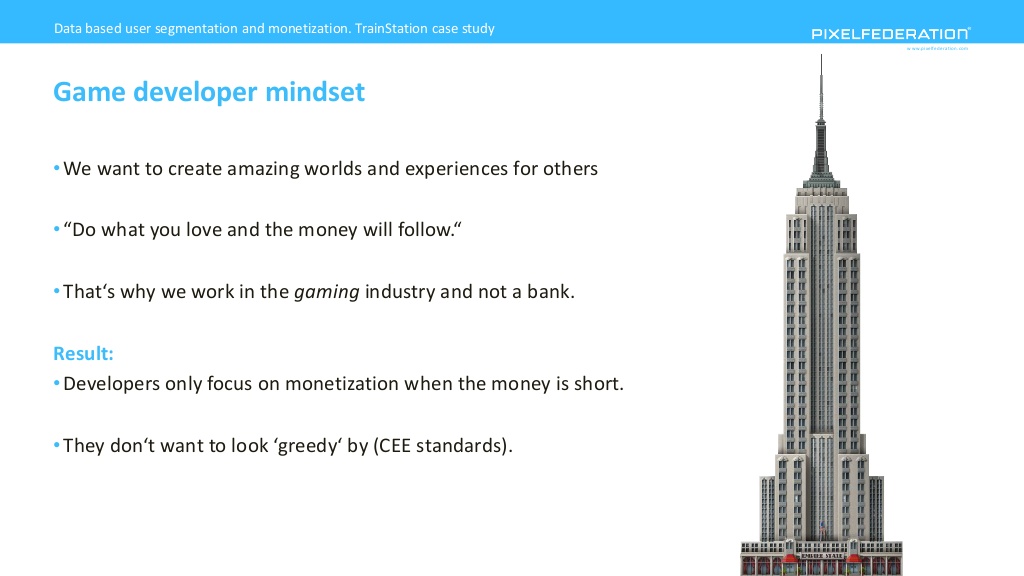 He showed us how it works for them. For example, 50% of revenue in Trainstation is generated by the top 6% of payers and 25% revenue is generated by the top 1% of payers. Therefore, it is necessary to create more special offers for these biggest payers. The most effective ones are those that contain some special skins or items.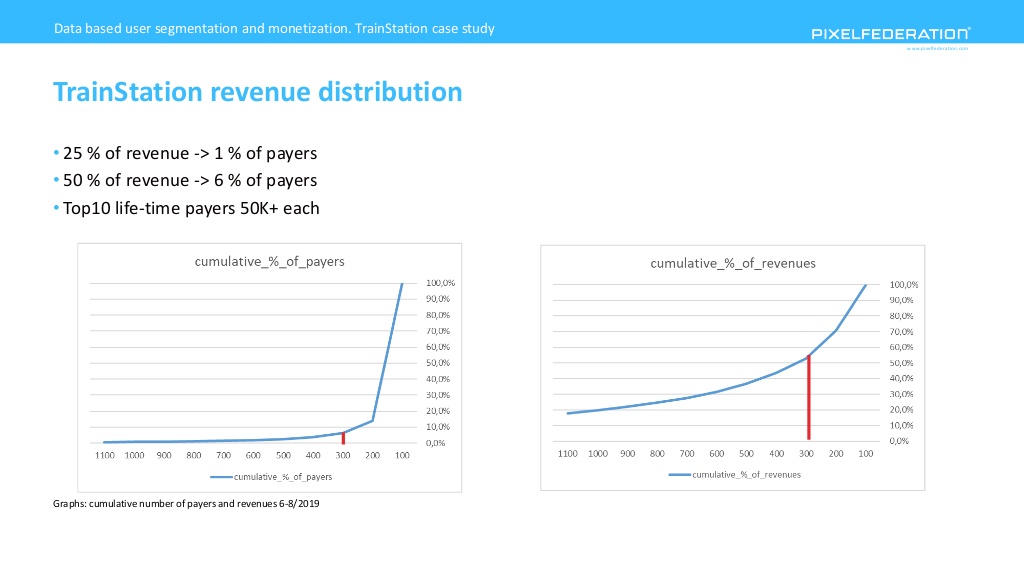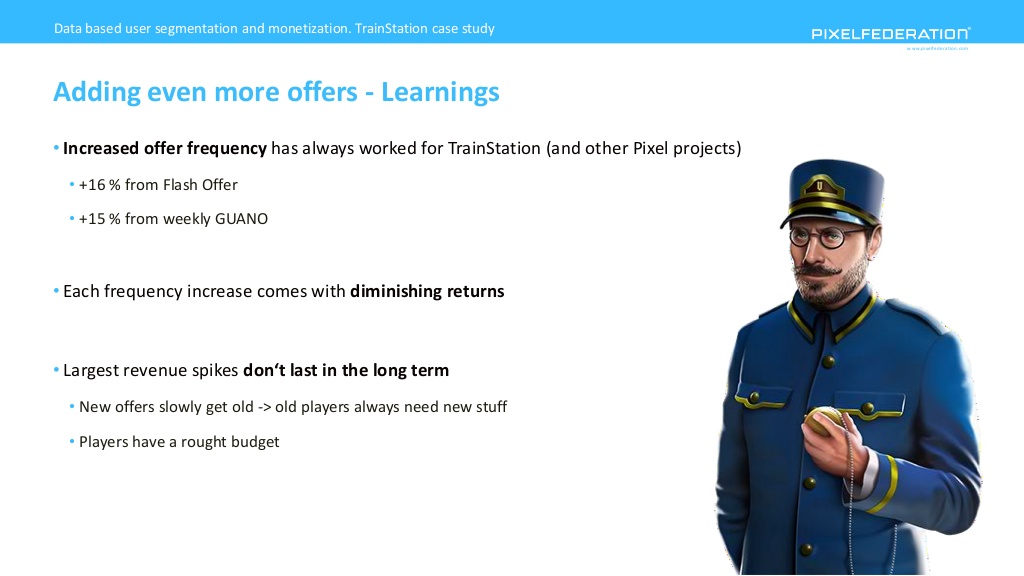 In general, it is useful to segment players and personalize offers. However, this cannot be done manually, so the process needs to be appropriately automated.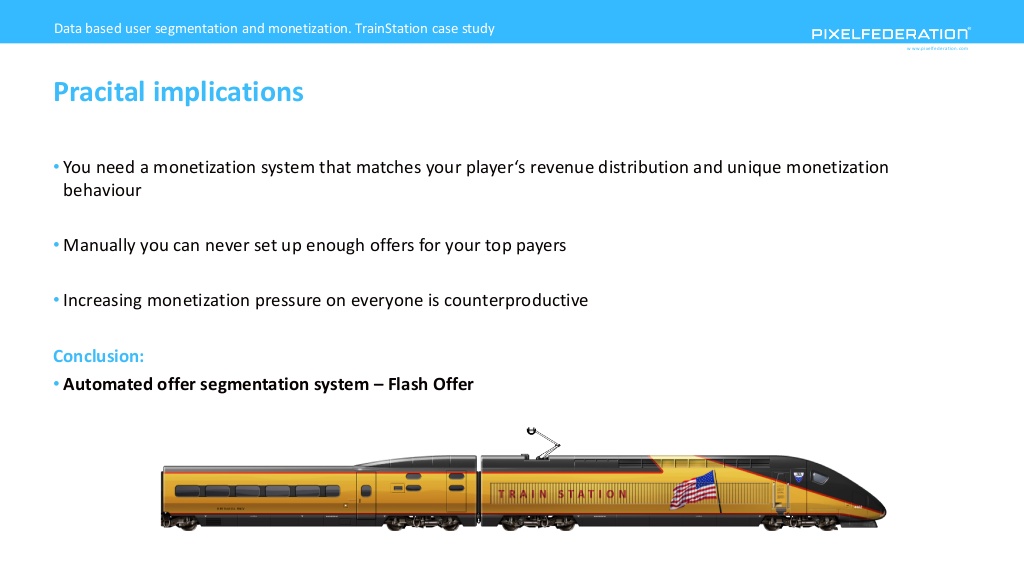 In conclusion, 3 recommendations can be summarized:
1. We should monetize on what players want, even if it's not in line with the initial game design.
2. We should monetize more than we think we should.
3. It is understandable that the first two recommendations will spoil the game and its balance, so you need to deal with it.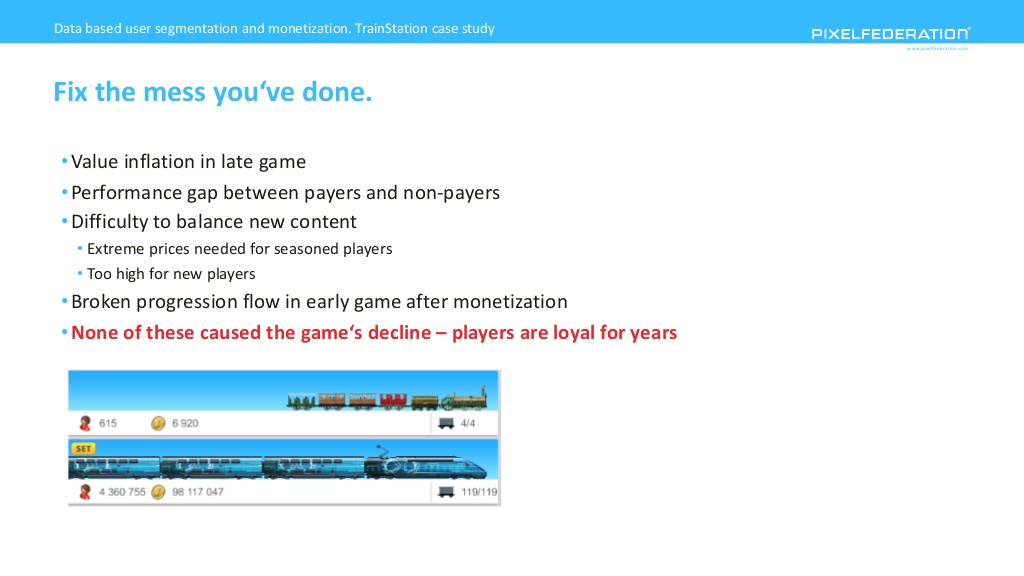 4. HOW USER SEGMENTATION AND PERSONALIZING OFFERS IMPROVED MONETIZATION FOR GEEWA
Speaker: Miroslav Pikhart, Geewa
The lecture consisted of their Starter pack case study. They did a test of personalized and non-personalized starterpacks. First, they created 3 packs of $2, $5, and $10 and let all 3 show up to all players. Later they changed the system and displayed $2 to the players they thought were hard to convert (in terms of pay-per-conversion), $ to the average player and $10 to those who were most likely to spend in the game. As shown in the graph, segmentation was several times more efficient. They did a player segmentation based on UA data. They took into account parameters such as country, device, language, operating system and so on.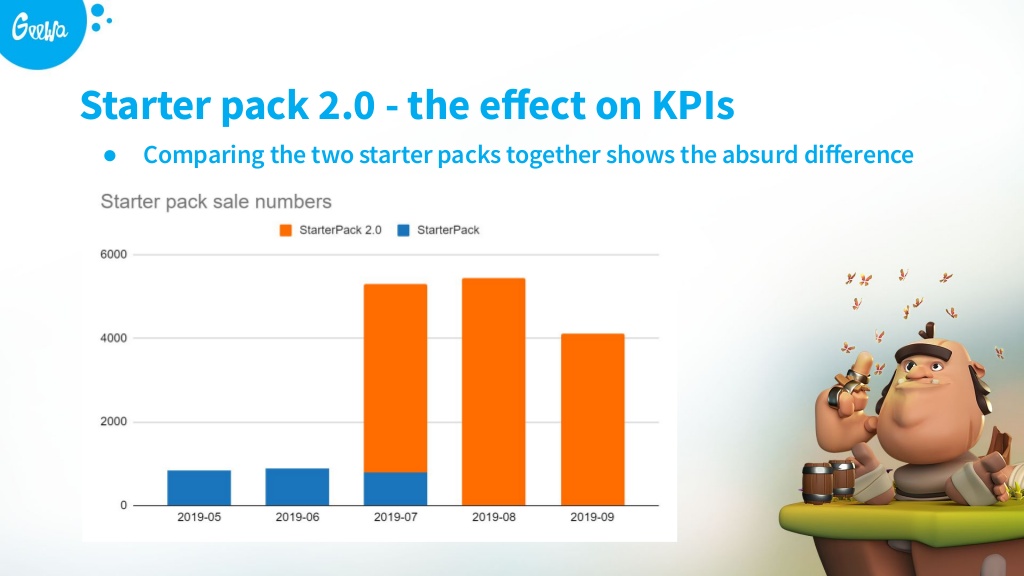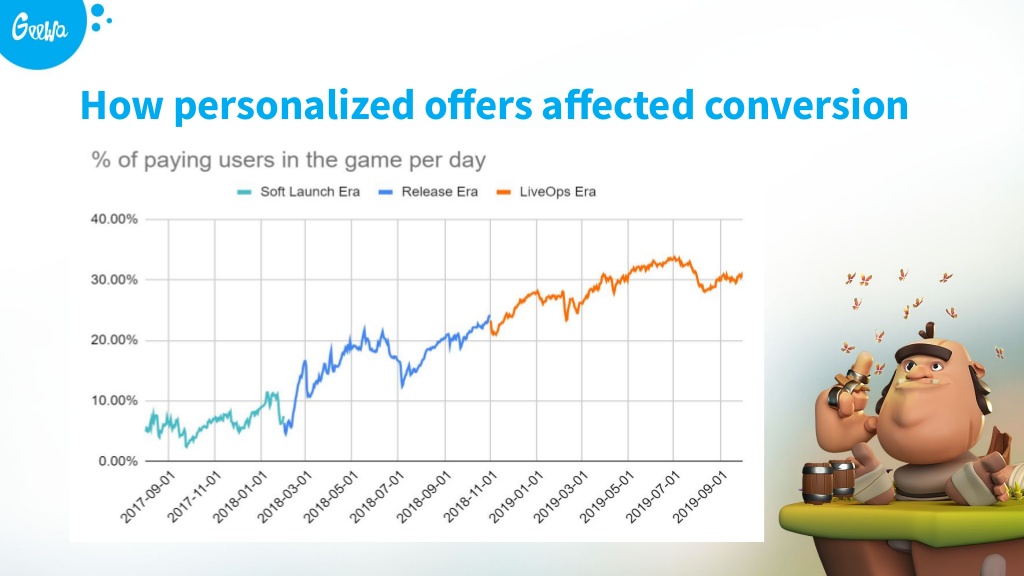 Obviously, with the increasing conversion to payers, the game's revenue also increases proportionally. Therefore, personalization should be the primary thing that needs to be in the game if we want to increase our revenue.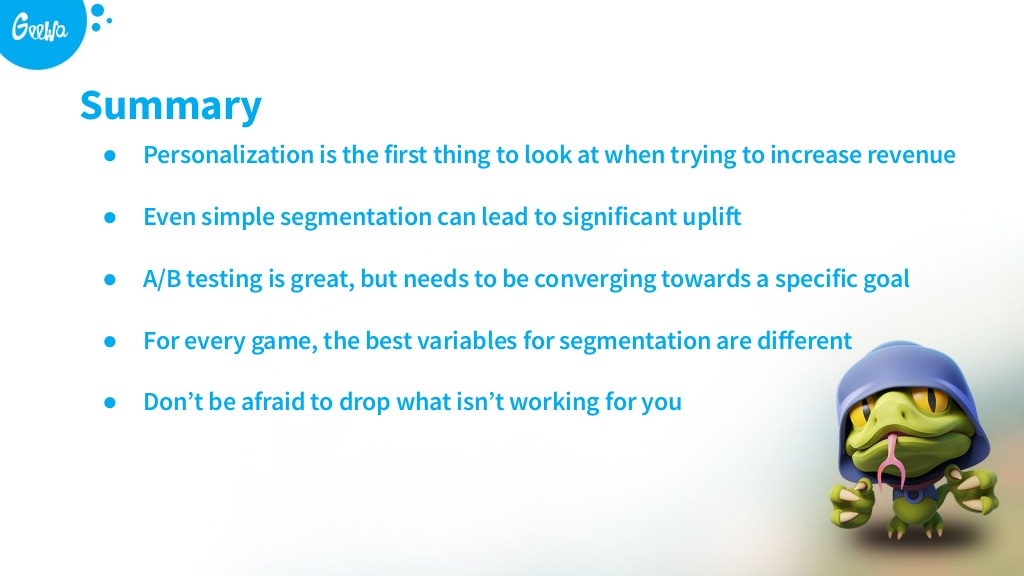 5. HOW TO GET THE MOST OUT OF ADMOB MEDIATION
Speaker: Lukasz Oktaba, Chess & Checkers
At Chess & Checkers they made an IAA experiment about the impact of mediation. They removed the ads completely from the game for two weeks and then monitored the impact of each change on revenue and eCPM. AdMob with automatic setup was implemented as the first step. The results are presented on a USA and Brazil sample.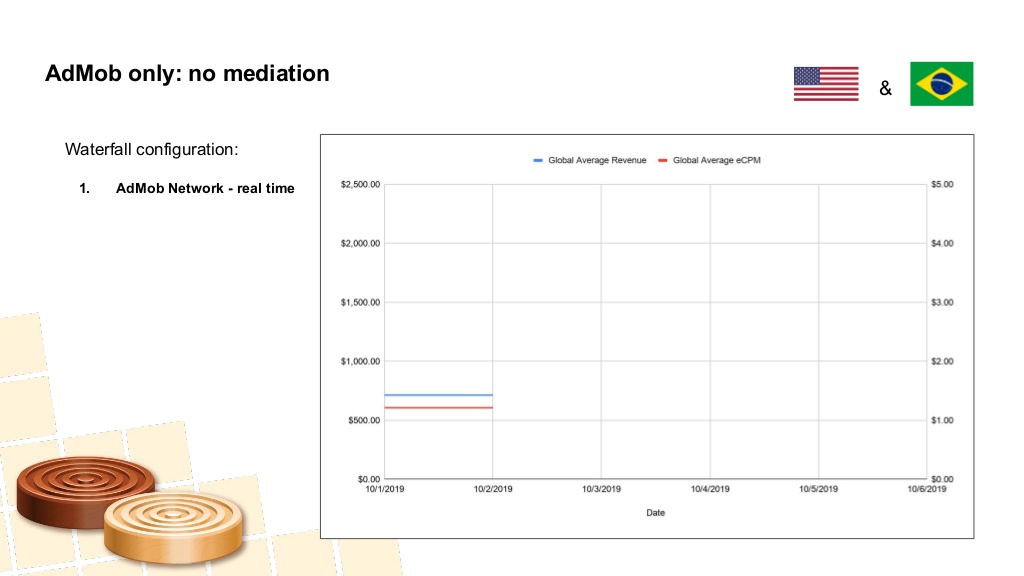 After implementing just one additional network, we can see an increase in eCPM. AdMob was still on automatic setup.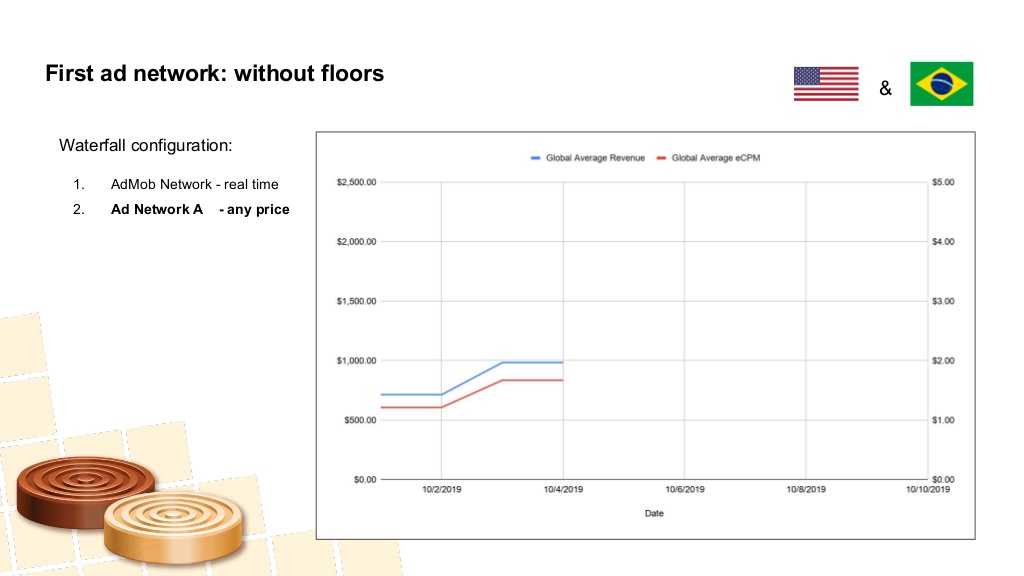 Once they started setting up manual waterfalls and floors for ad network A, both the eCPM and revenue increased again.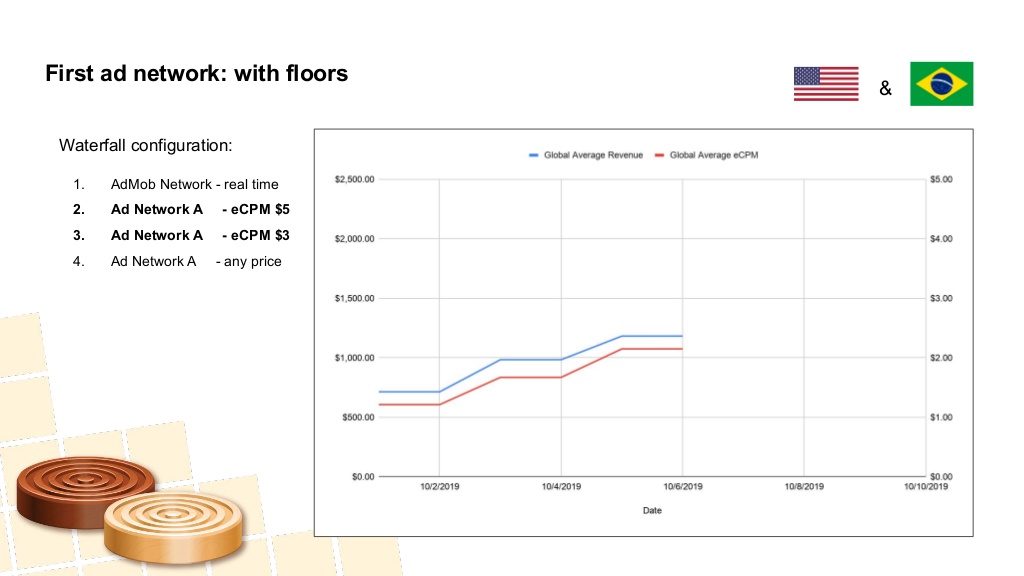 However, this shift was mainly due to Brazil as these floors had almost no impact on the US. It is necessary to group similar countries and treat them individually, not setting the same floor conditions for everything.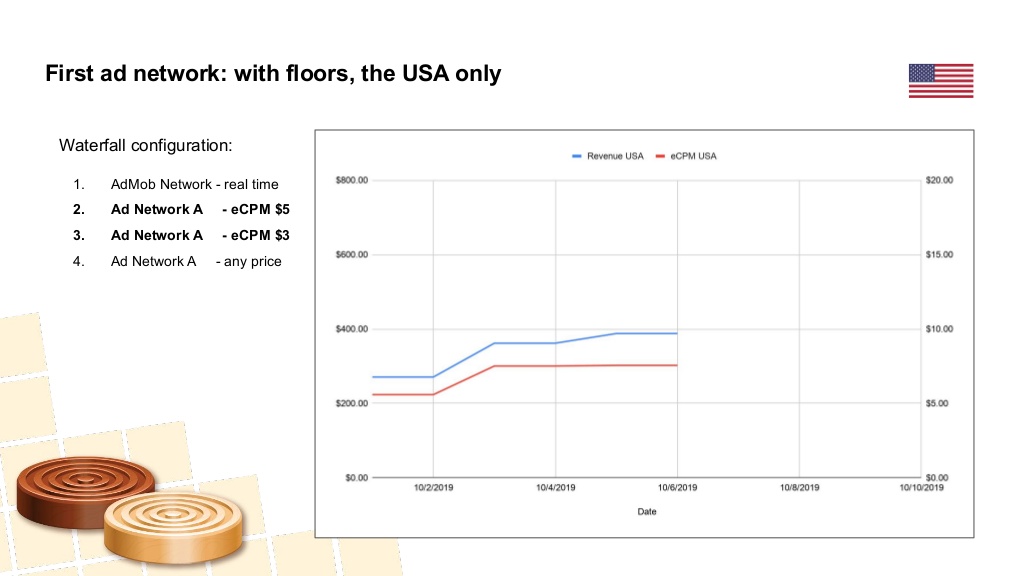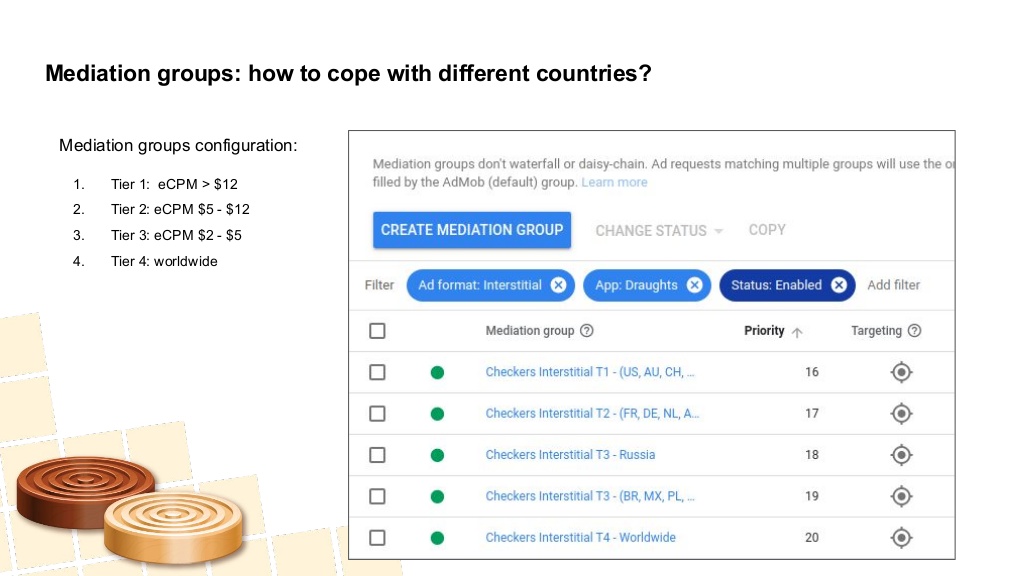 Another increase in both eCPM and revenue can be seen after integrating multiple ad networks with manual floor setup as can be seen on the slide (picture). The eCPM for the US increased from 5$ to18$.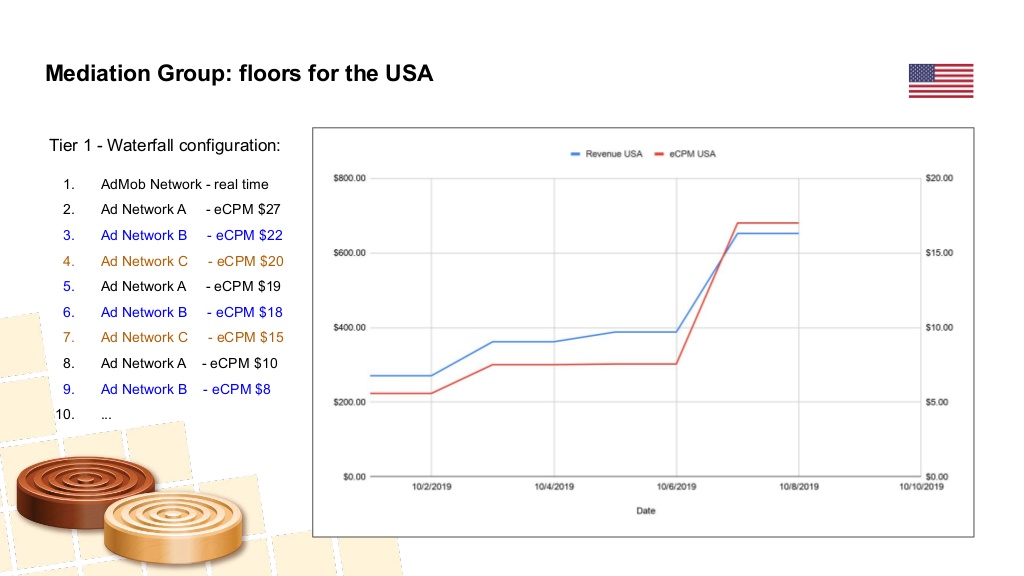 Sometimes it helps to reduce the number of floors or ad networks. That was the case with Brazil.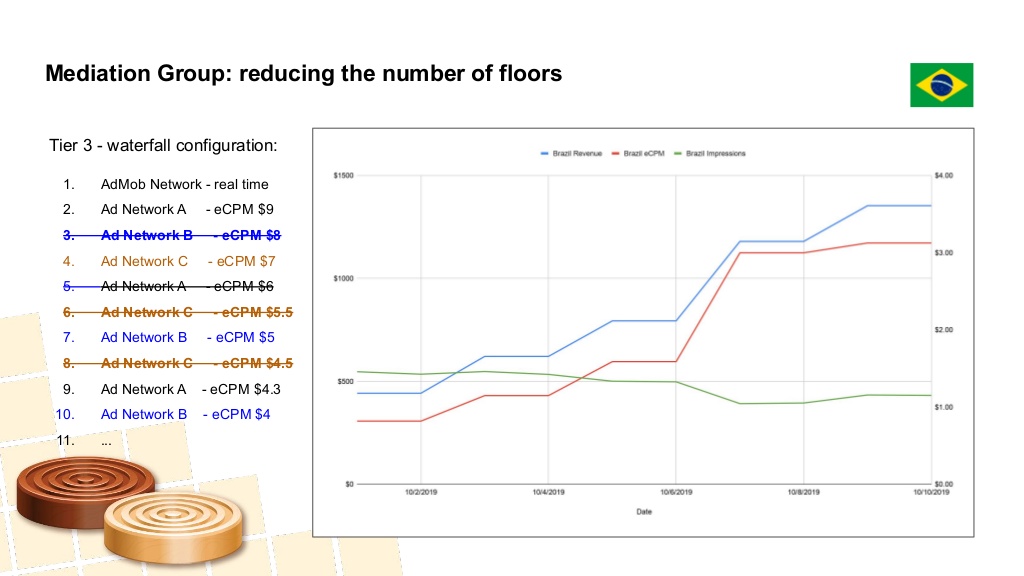 It is ideal to use 4 or 5 major ad networks, create mediation groups for the best regions and customize eCPM floors to achieve a 10% fill rate on the first call.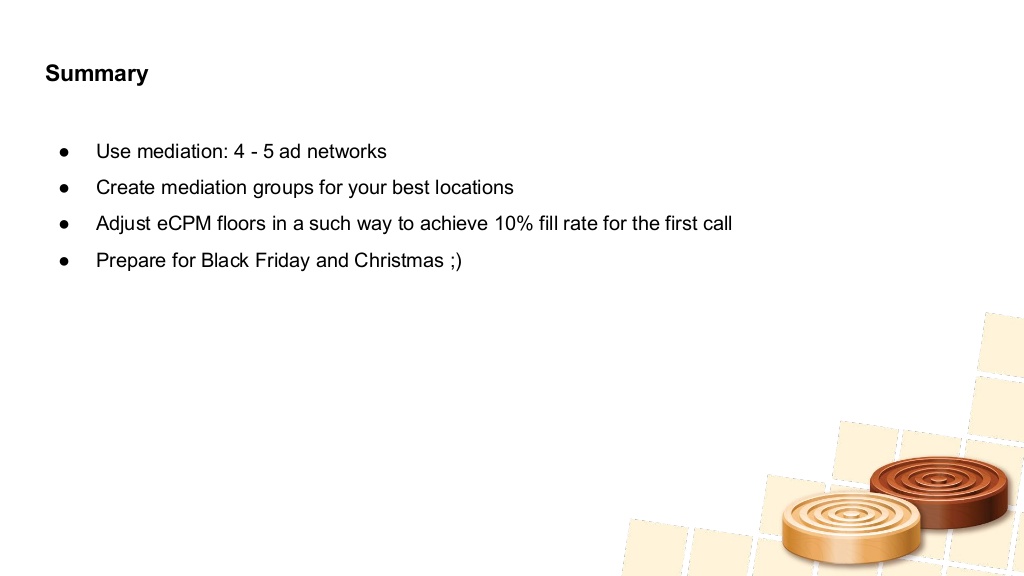 6. WHAT DOES IT MEAN TO HAVE GOOD REWARDED VIDEO?
Speaker: Bozo Jankovic, GameBiz Consulting
The speaker introduced the ad revenue model, specifically how they are making their earnings from advertising.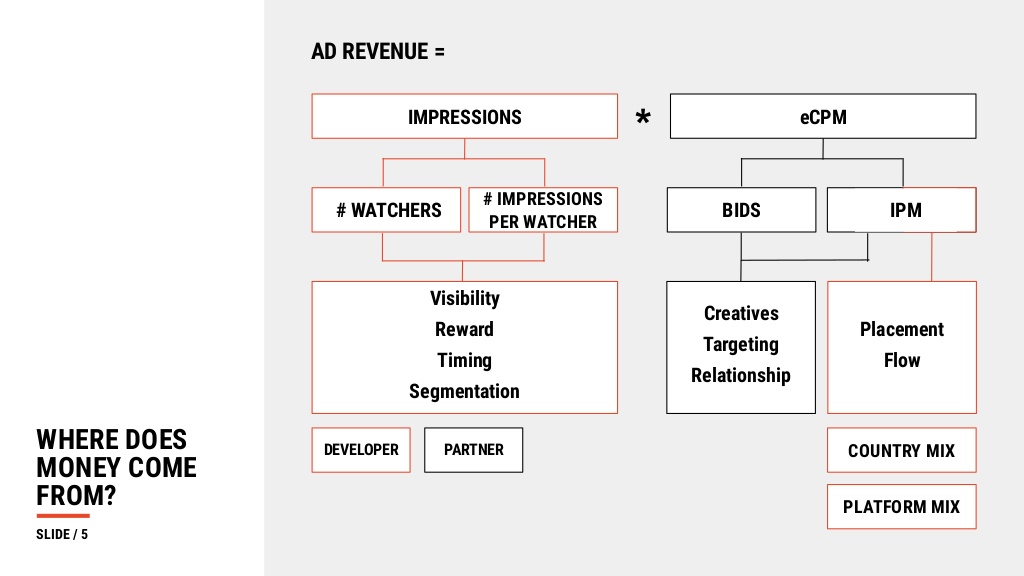 It is important to focus on correct metrics during evaluating rewarded video. You also need to think about in-game location, timing, rewards, etc.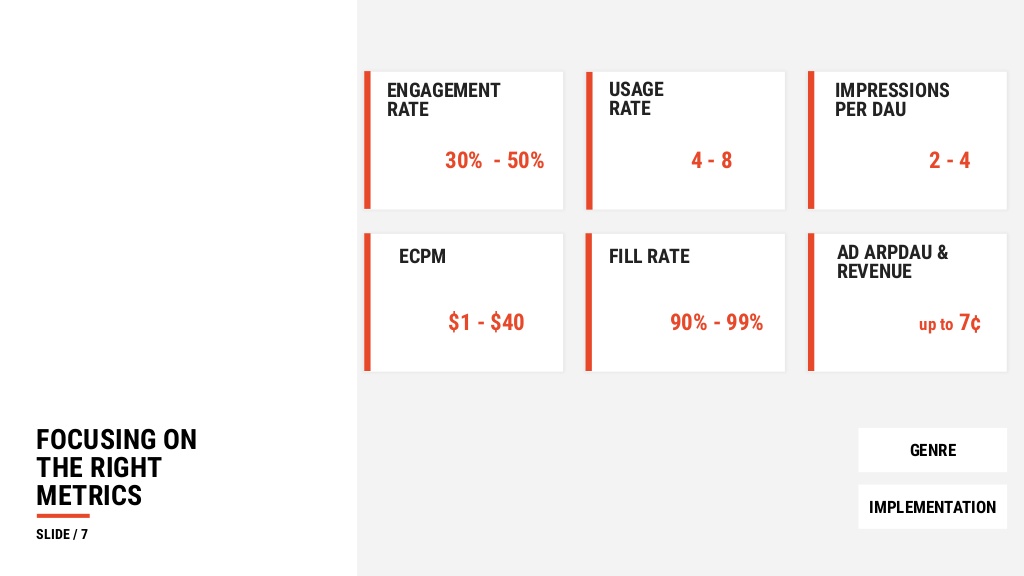 When implementing rewarded video, make sure that the button is distinct and well recognizable for the player. "Save Me" method (means adding a timer to increase the pressure on the player (the display time of the video button is limited) is also performing well.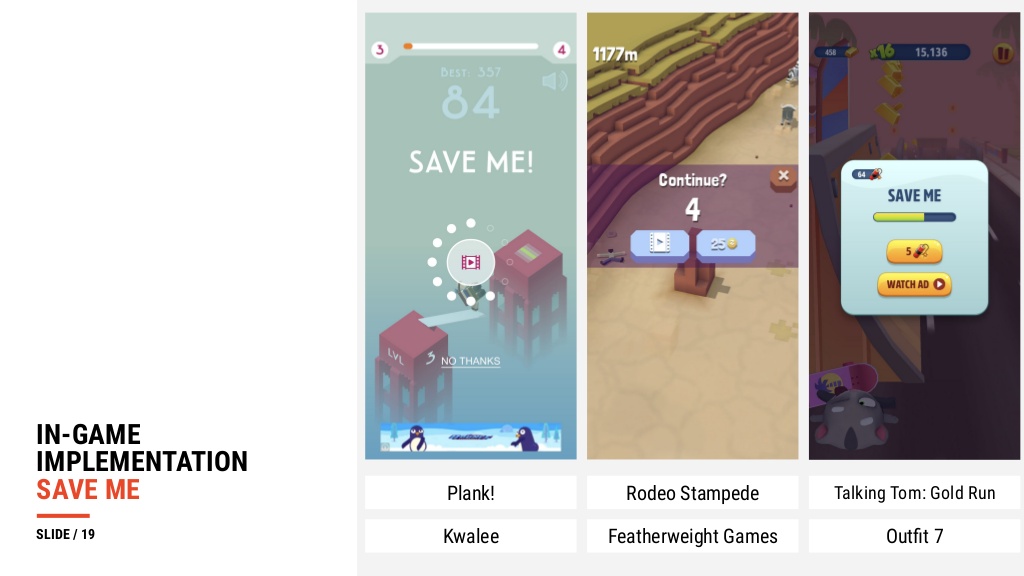 Another interesting use of in-game advertising is the option to watch the video at the end of the match to double the reward.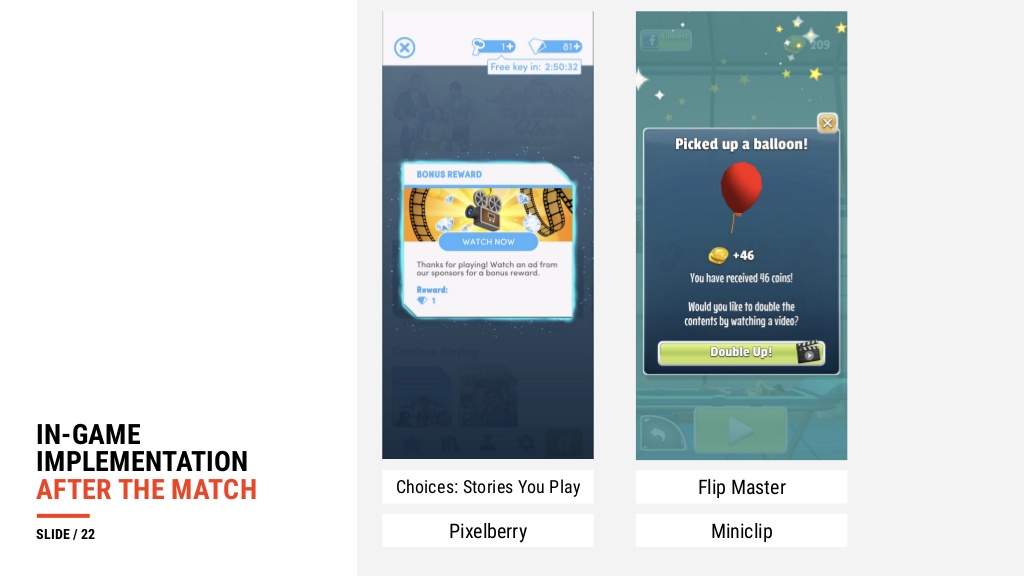 In Angry Birds 2 or Head Ball 2, players have access to special tournaments only by watching rewarded videos.
Example of welcome screen location (double reward):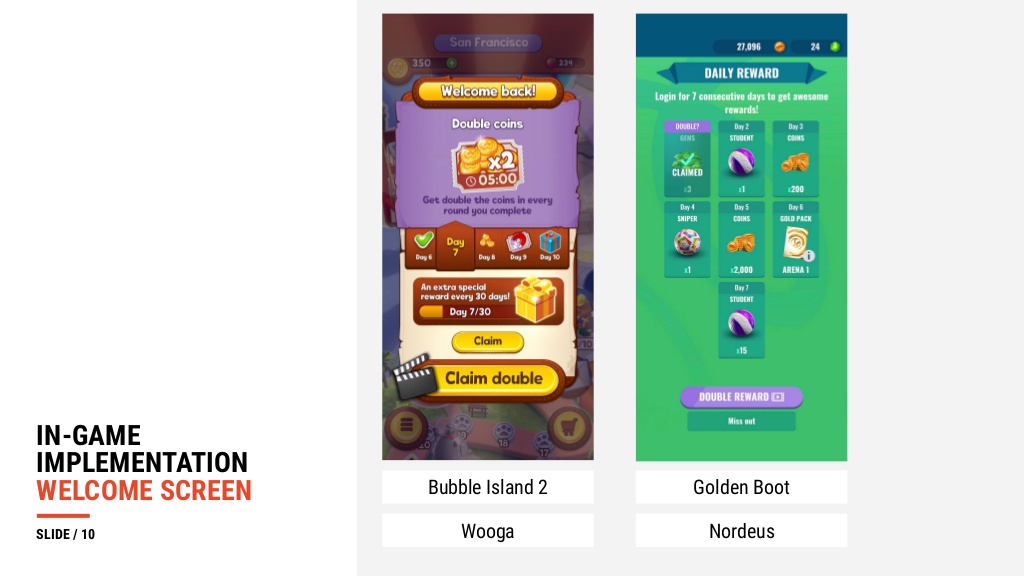 Example in shop: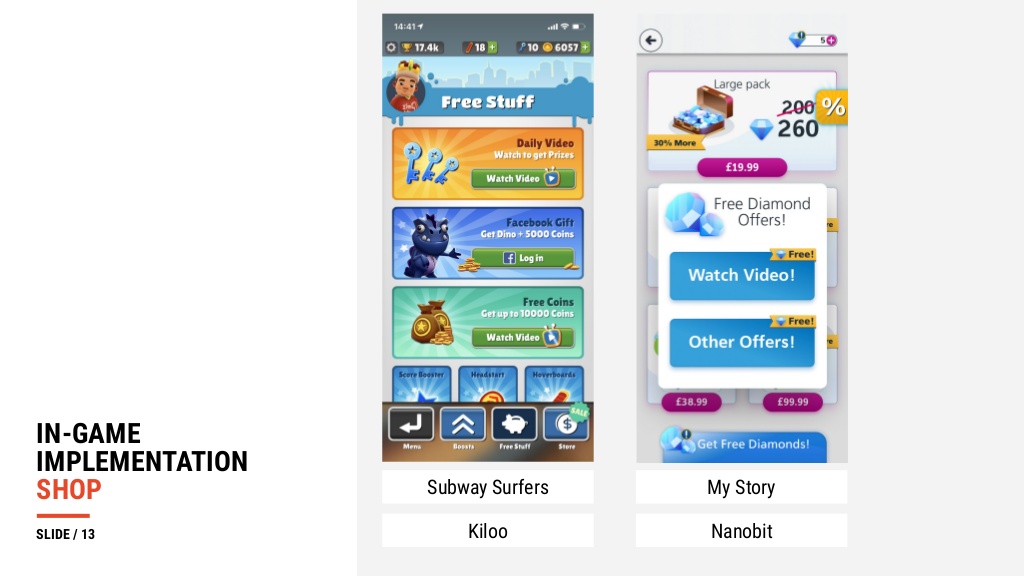 Example of Homescreen: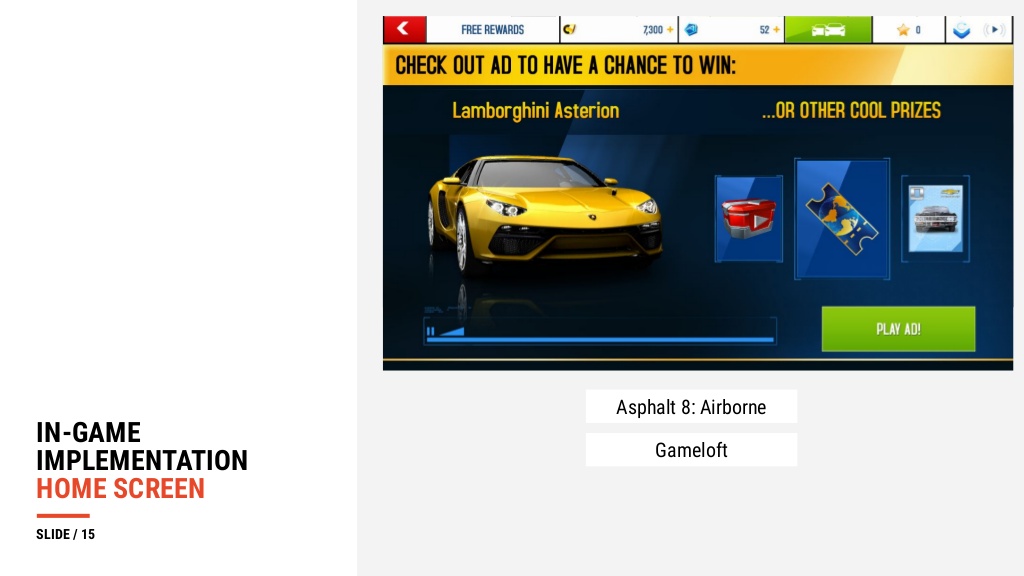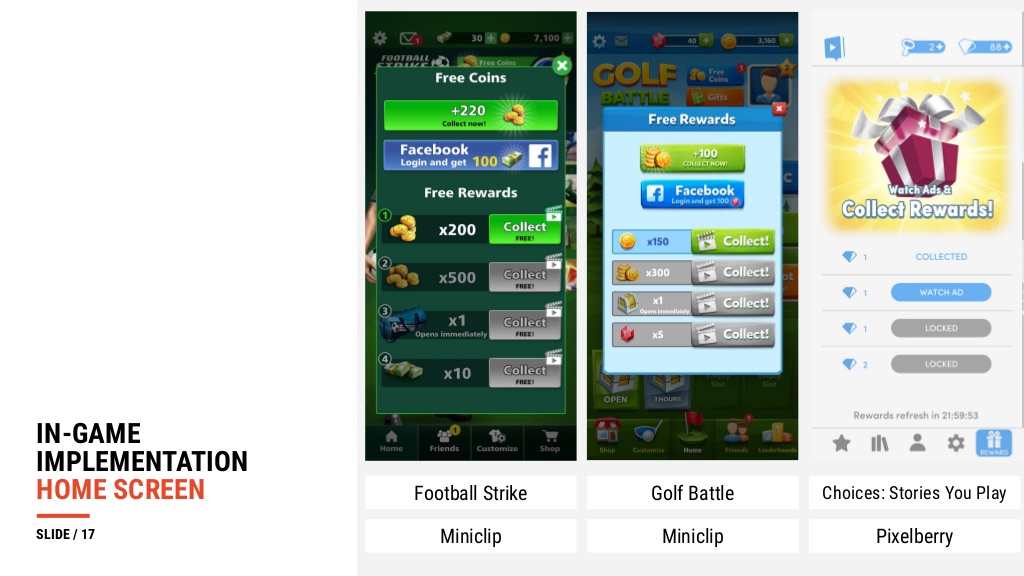 Example of "no energy":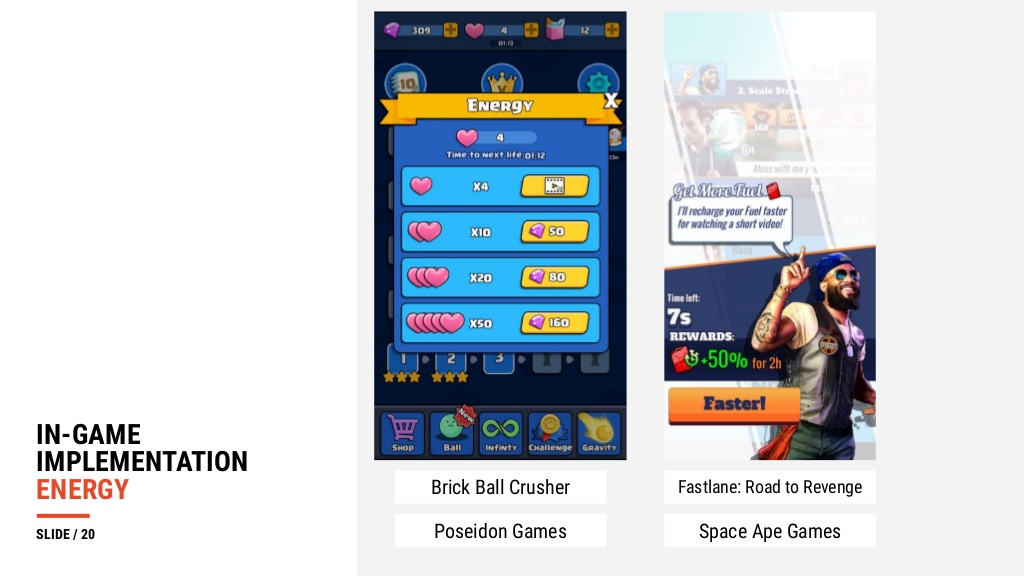 7. PERSONALISATION AS THE KEY TO OPTIMISING YOUR GAME'S REVENUE & LTV
Speaker: Ilya Kuznetsov, Unity
One of the ways of behavioral segmentation of players is based on their behavior in the game to invent the so-called "personas". We can then match the content in offers or events based on the personas. To be able to segment players this way, it is necessary to determine the so-called engagement KPIs that define behavior of players in the game.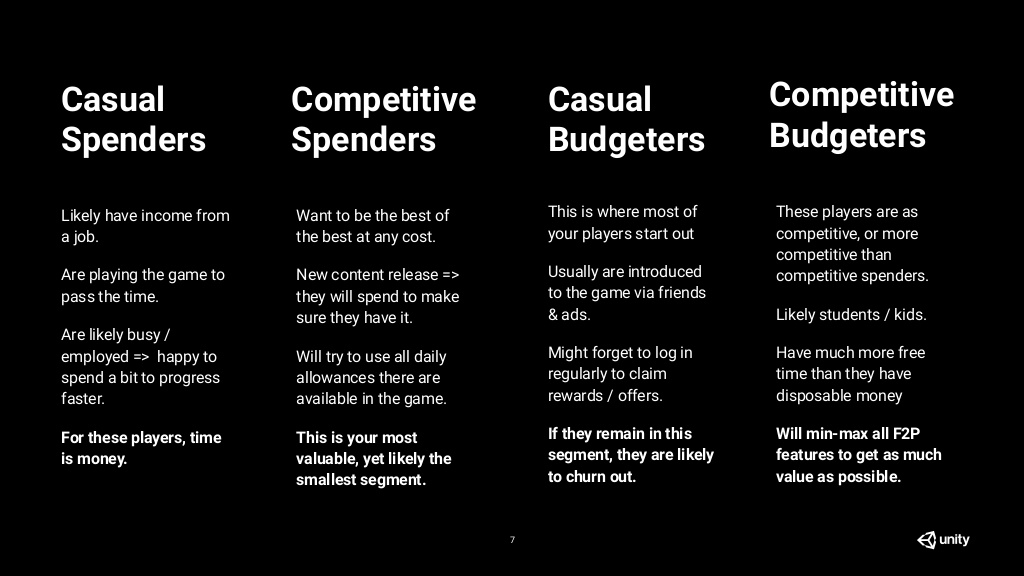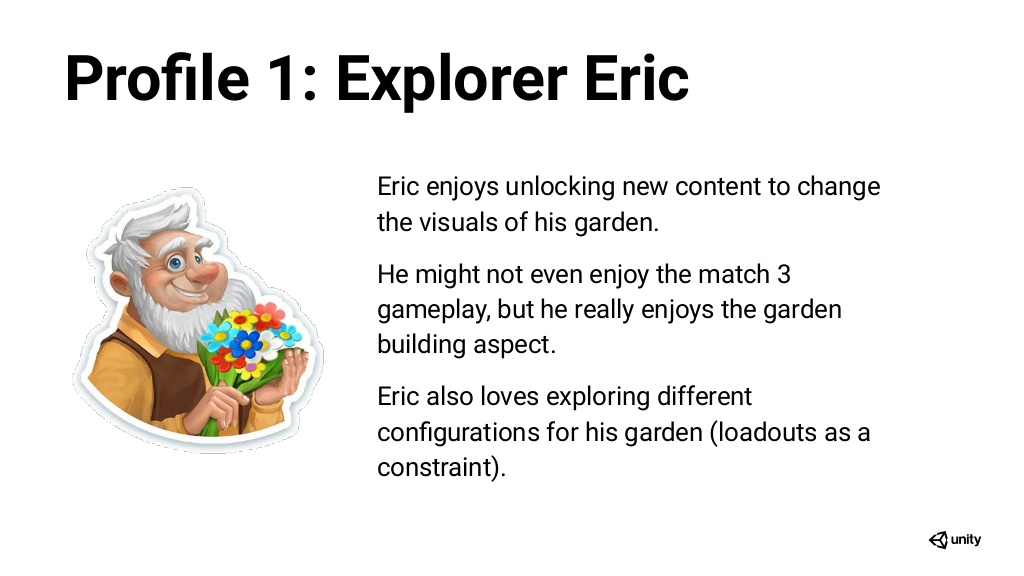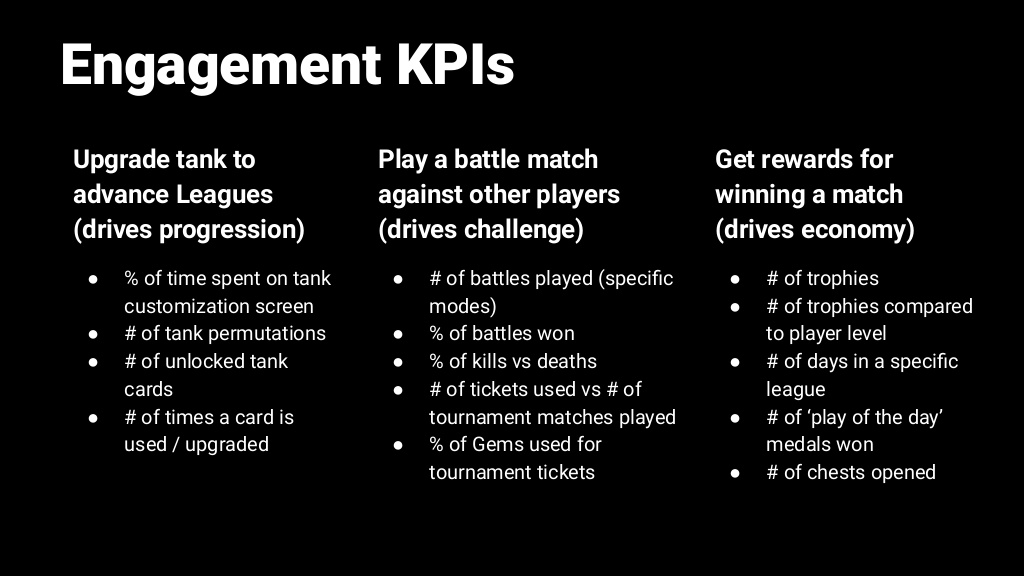 8. INNOVATING CLASSIC GENRE AS THE WAY TO CREATE NEW VALUE FOR GAMING USERS. CASE STUDY OF TRAFFIC PUZZLE.
Speaker: Maks Teper, Picadilla Games
The lecture focused on the development of the first game of Picadilla Games, from initial analysis to global step-by-step launch. Because of their low assets and gameplay simplicity, they decided on the Match-3 genre.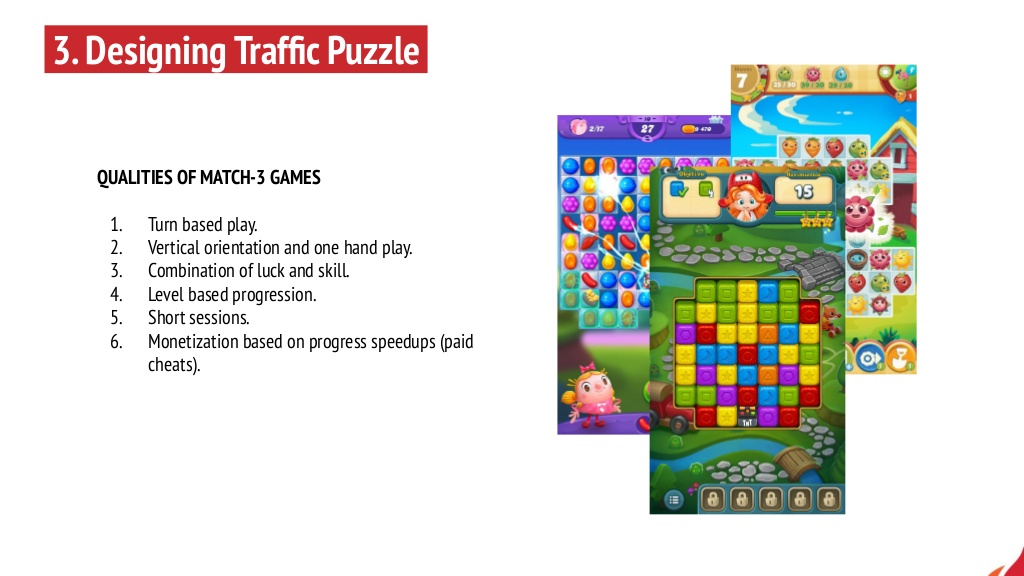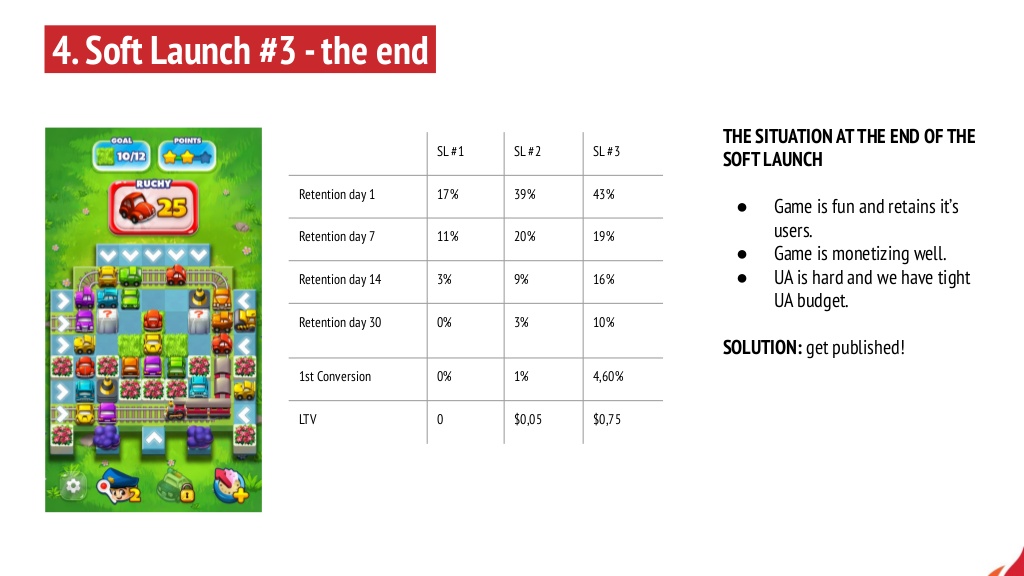 Individual soft launches then showed them:
First soft launch:
Testing level continuity

Long loading time

Slow response

Crashes on many devices
Second soft launch:
High difficulty levels

Players had no need to spend money in the game

They didn't even use free boosts
Third soft launch:
Adjusted difficulty levels and monetization

Due to small UA budget, they decided to use a publisher (Huuuge games)
Then they made a number of changes. The most significant change was the name.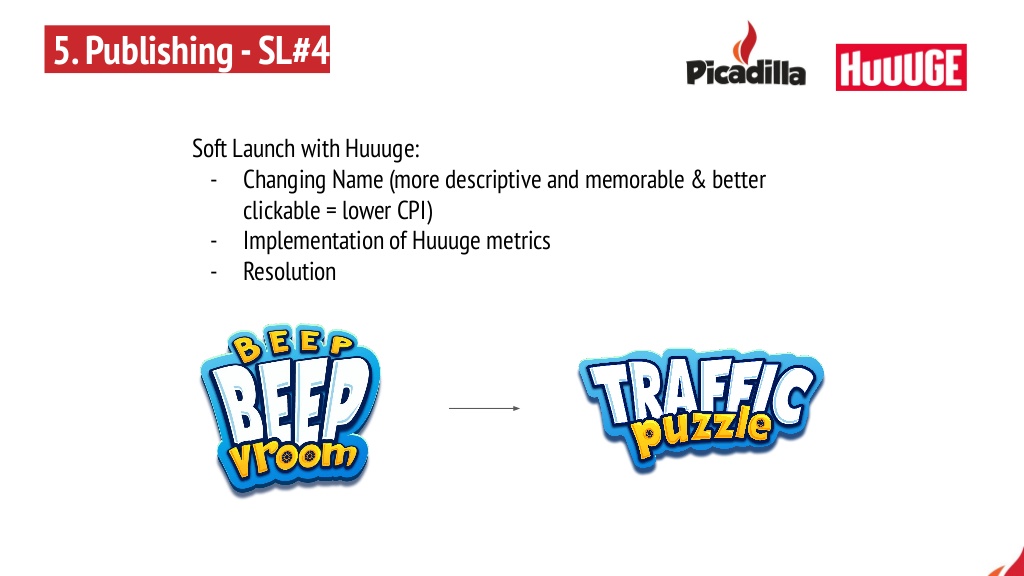 9. USER PATH ANALYSIS AND USER PROFILING
Speaker: Alisa Spodyneyko, Creative Mobile
In this presentation we learned about another (but very similar) way of behavioral segmentation where instead of setting "engagement KPIs" it is necessary to set "Topics" that talk about how a player behaves in the game. Based on these "Topics" we are able to assign player profiles and better personalize offers. In this case all player interactions with UI are tracked and depending on what they click the most, their value in the topic increases.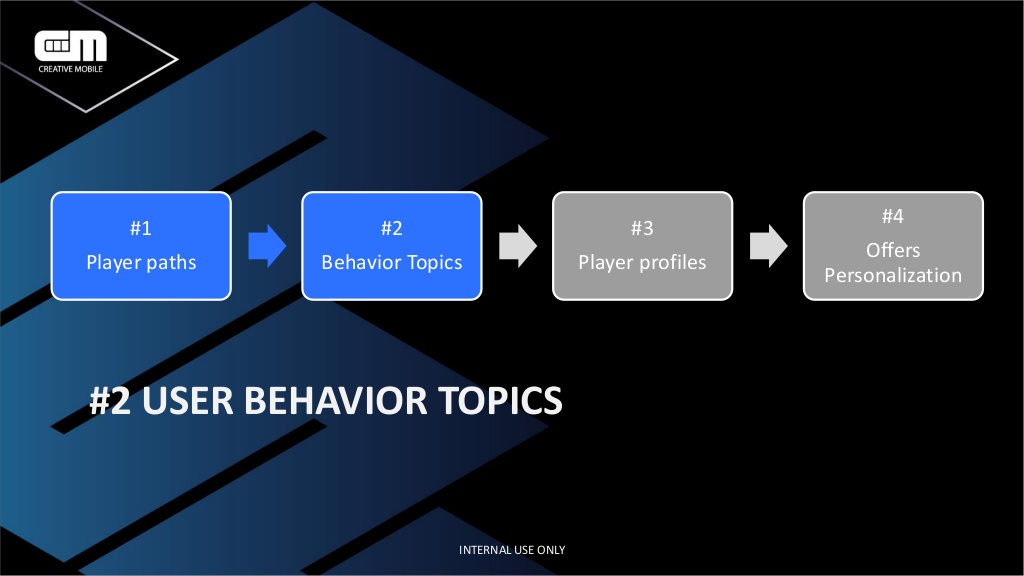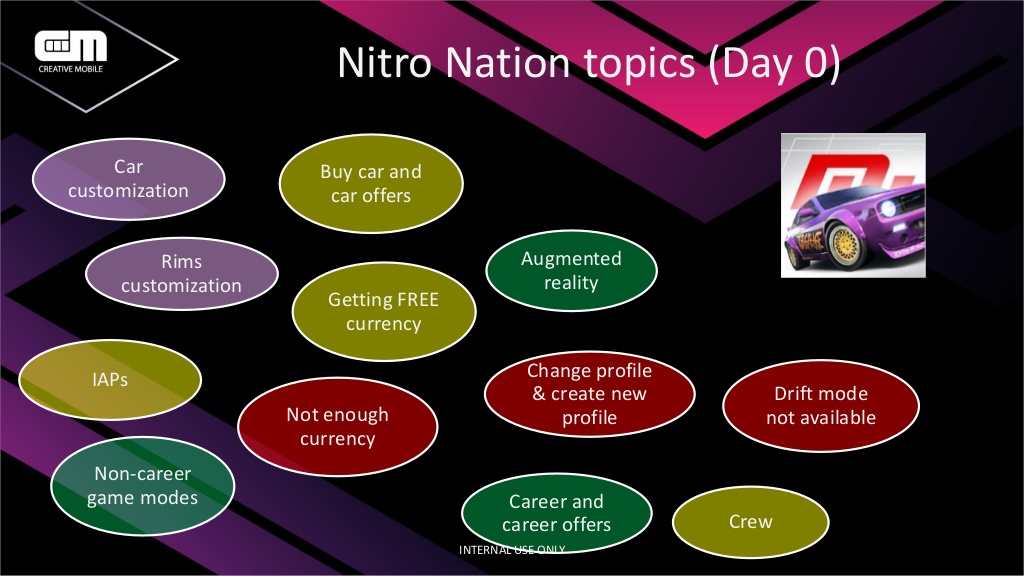 Base topics in Nitro Nation game: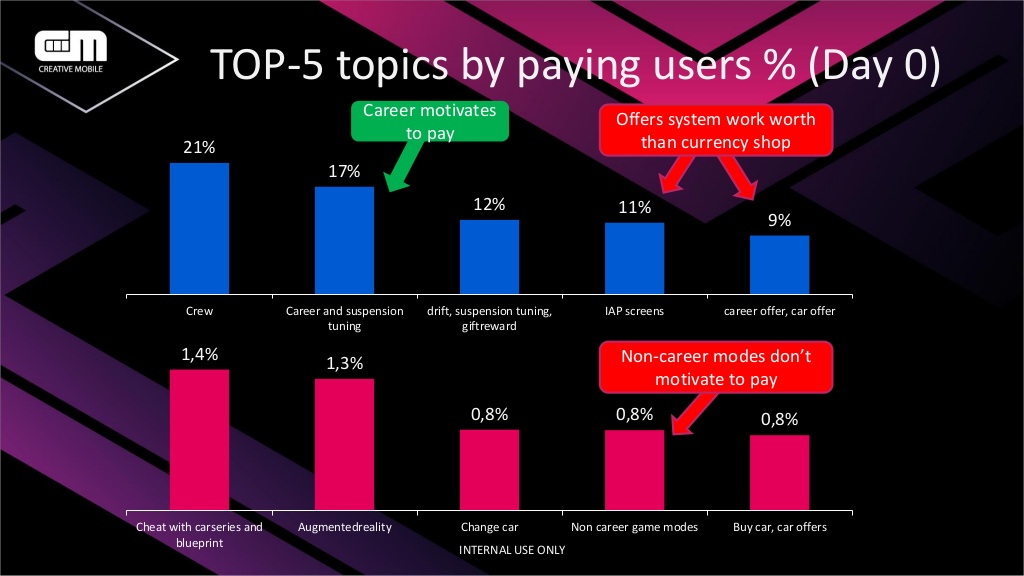 From the behavior in D0 it is possible to determine with some probability the gaming profile and players' potential for payment in the future.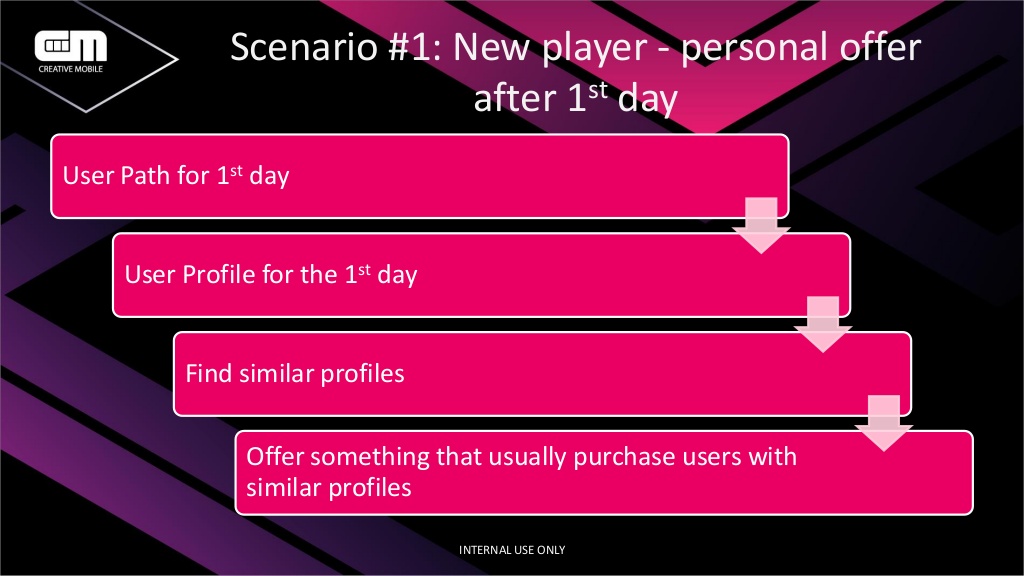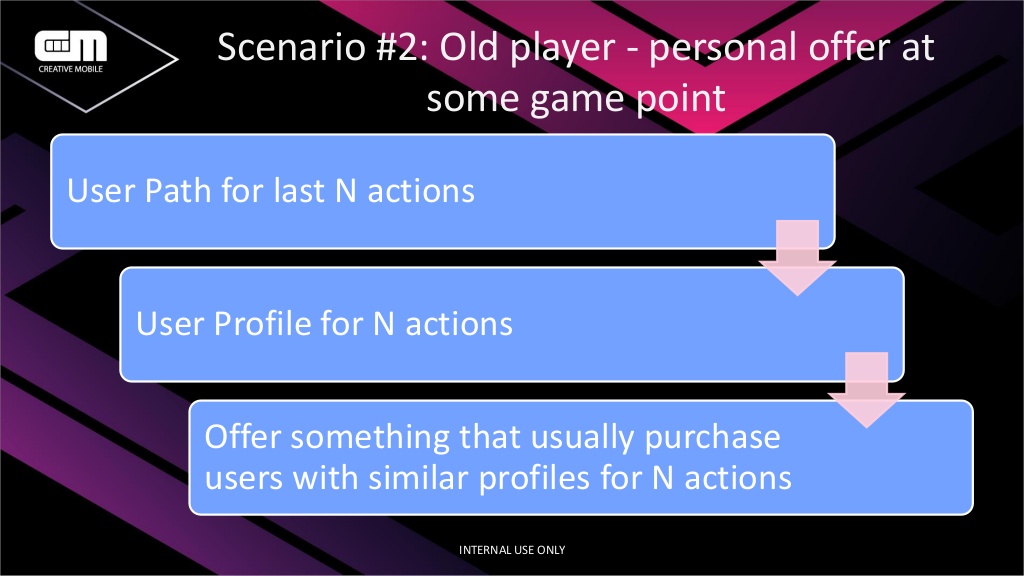 In real life we can encounter behavioral segmentation of users eg. on youtube, netflix, e-shops, etc. where, based on our behavior, these services offer us featured content that has been purchased, seen or liked by someone with similar behavior. The more player profiles we create, the more accurate this model is.
10. TRANSIT KING CASE STUDY - DATA DRIVEN DESIGN WITH ITS BENEFITS AND CHALLENGES
Speaker: Tomas Kleinmann, SuperScale
SuperScale informed us about their case study on Transit King Tycoon (from BON Games), which increased retention by more than 32% revenue due to the change in vehicles capacity (in-game mechanic)
11. GROWTH MARKETS IN MOBILE GAMING
Speaker: Margaret Kuleta a Dominik Benger, Google
We got interesting insights, trends and numbers from Google in the field of mobile gaming in different countries depending on the genre of the game, such as CPI and much more. Unfortunately, the details of this lecture cannot be disseminated.
12. AD LTV IN MOBILE GAMING: DEEP DIVE INTO INDUSTRY
Speaker: Yaniv Nizan, Soomla
The lecture was focused on Ad LTV and its benchmarking. It identified some good and bad tips based on data from billions of in app ad impressions.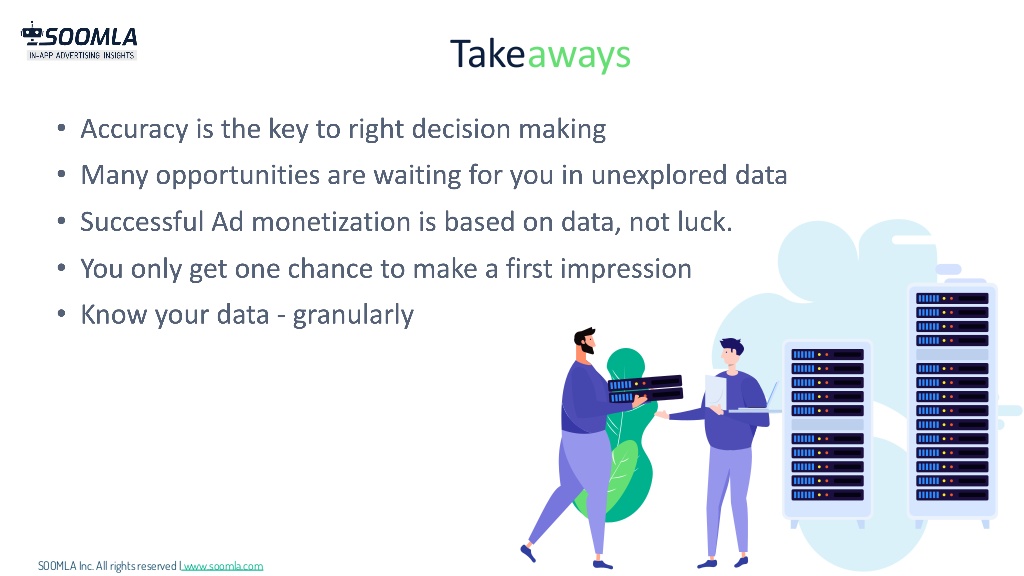 13. NOT SO TRIVIAL LESSONS LEARNED FROM LAUNCHING MID-CORE GAMES
Speaker: Max Samorukov, Crazy Panda
14. PREDICTING USER ACQUISTION PAYBACK: METHODS AND TOOLS
Vasiliy Sabirov, Devtodev
Vasiliy Sabirov of Devtodev presented various ways of calculating LTV. (Devtodev is an analytics software that helps predict the success of your campaigns' ROI.
The basic method: We'll take into account how much players have paid and compare it to how much has been spent on campaigns per year.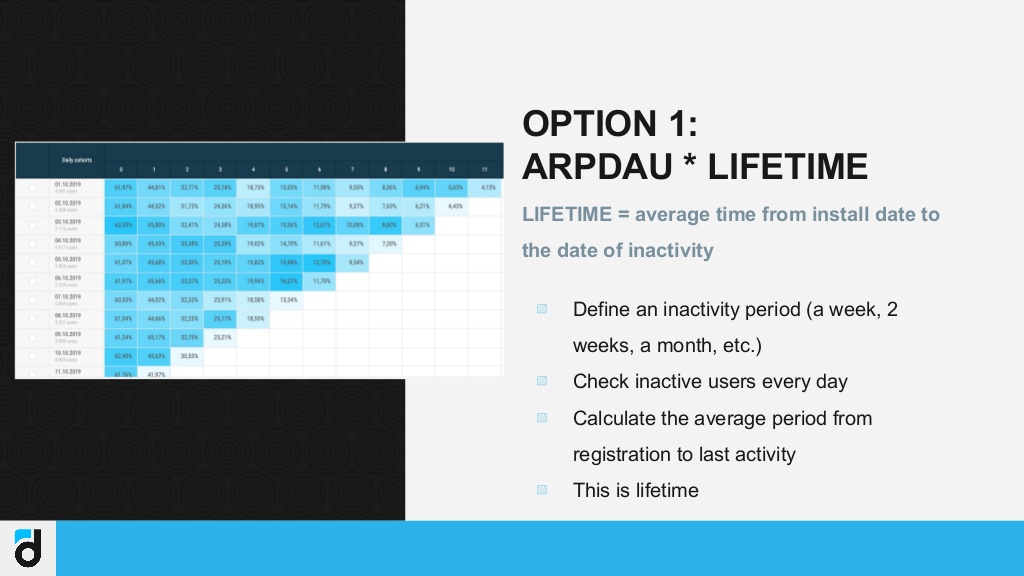 A bit more precise method: ARPDAU * LIFETIME - we are looking at players lifetime and churn rate since the beginning of the campaign and the values are averaged.
The last and perhaps the most effective method of forecasting is again ARPDAU * LIFETIME, but with a different way of calculating lifetime (based on retention). However, to know how long it is necessary to let the campaign run so we can determine its ROI forecast with sufficient accuracy, depends on the specific title.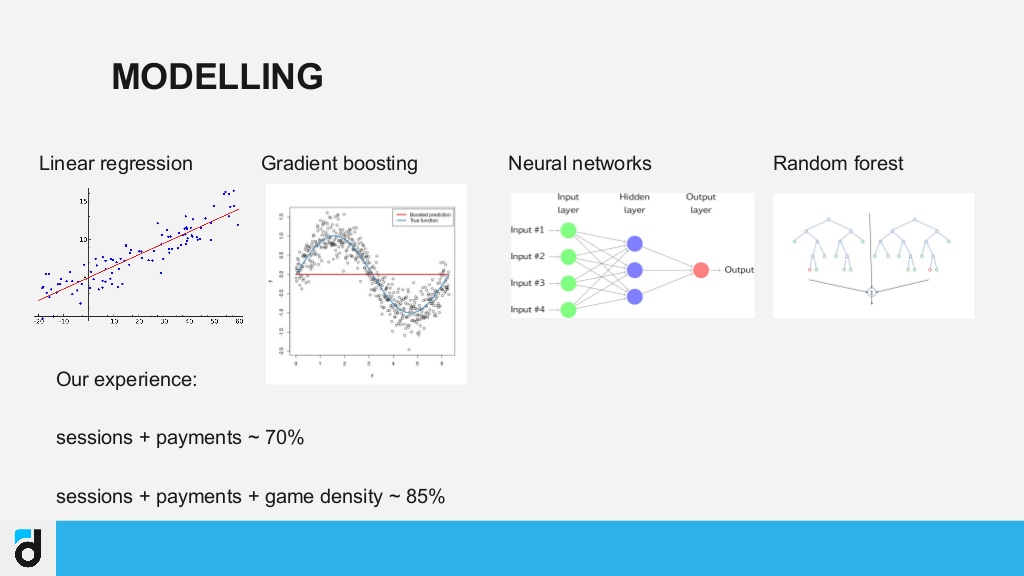 Devtodev is using machine learning models. They let it run for at least 9 days to be able to predict well.
15. OPTIMISING USER ACQUISITION THROUGH LTV PREDICTION
Speaker: Robert Magyar, SuperScale
Another lecture continued on the topic of forecasting the maturity of campaigns. Superscale uses cloud machine learning to predict the maturity of campaigns.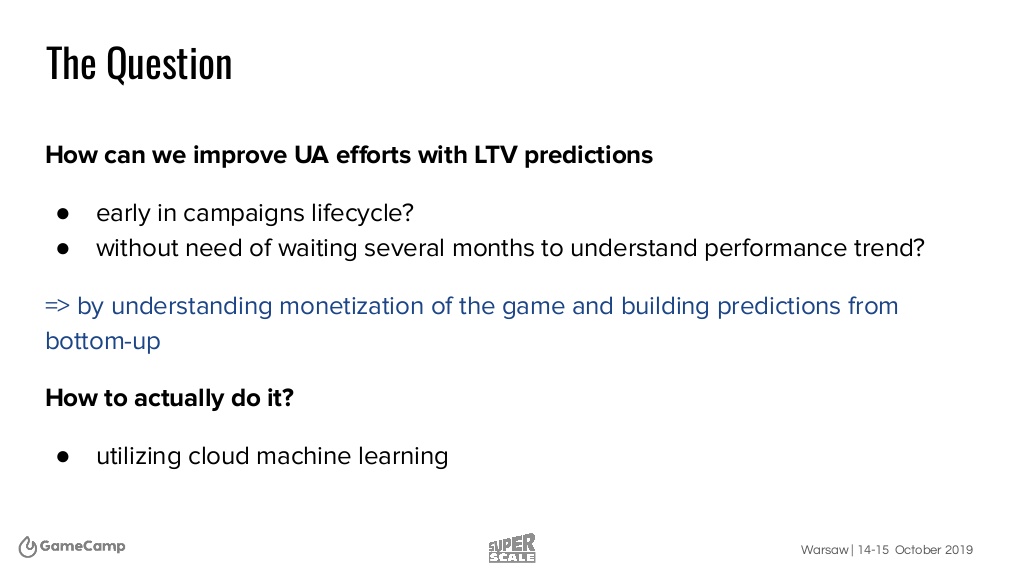 In their case, how long they need to keep their campaigns running depends on the monetization model of the game.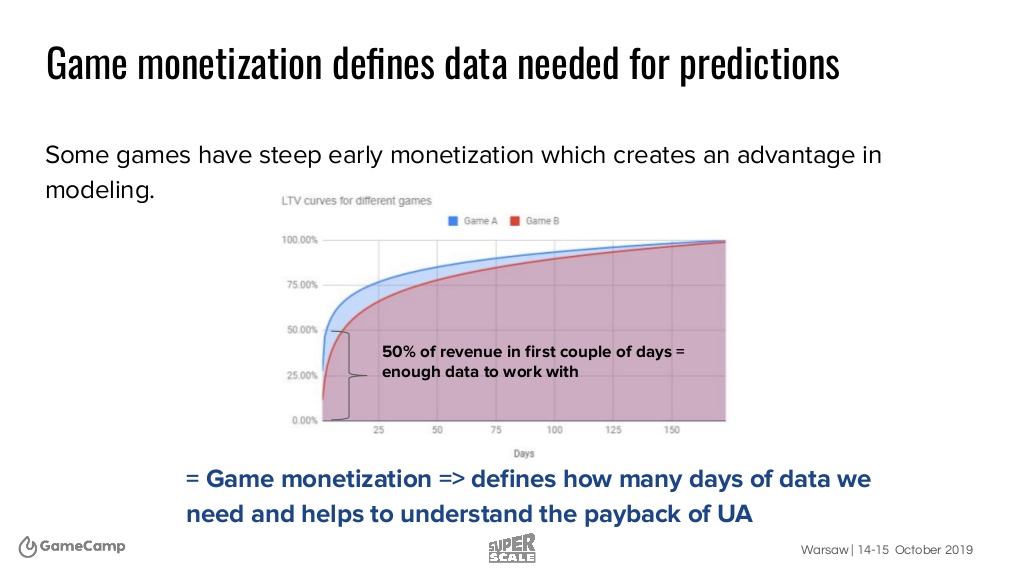 They update the entire campaign by days based on cohort D1, D2, D3, and so on.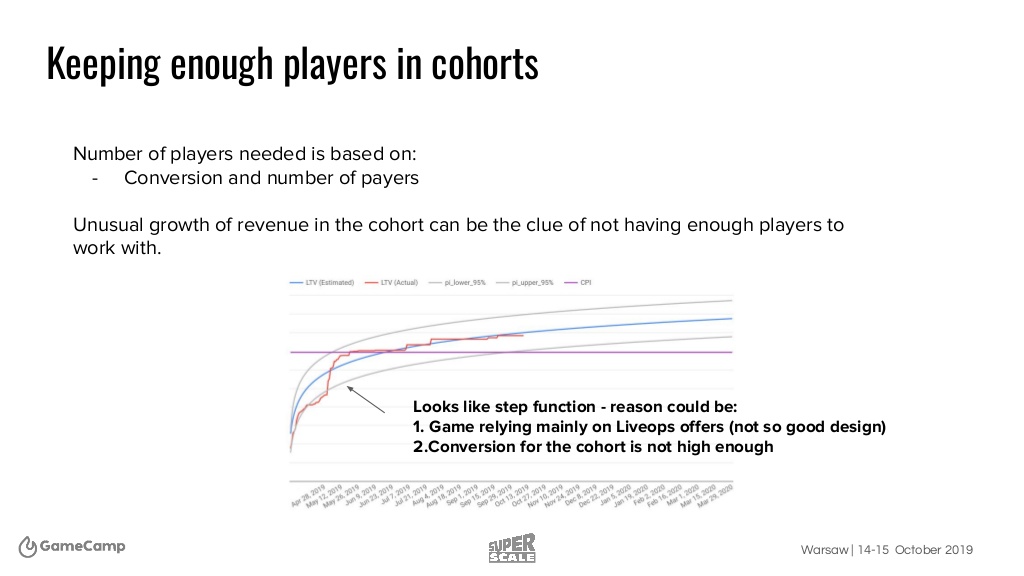 First, they collect data from all channels to Google BigQuery (they have a huge amount of data… terabytes and terabytes). Then they use google cloud machine learning / data warehouses + ETL processing and apply the results in areas such as campaign prediction, optimization, etc.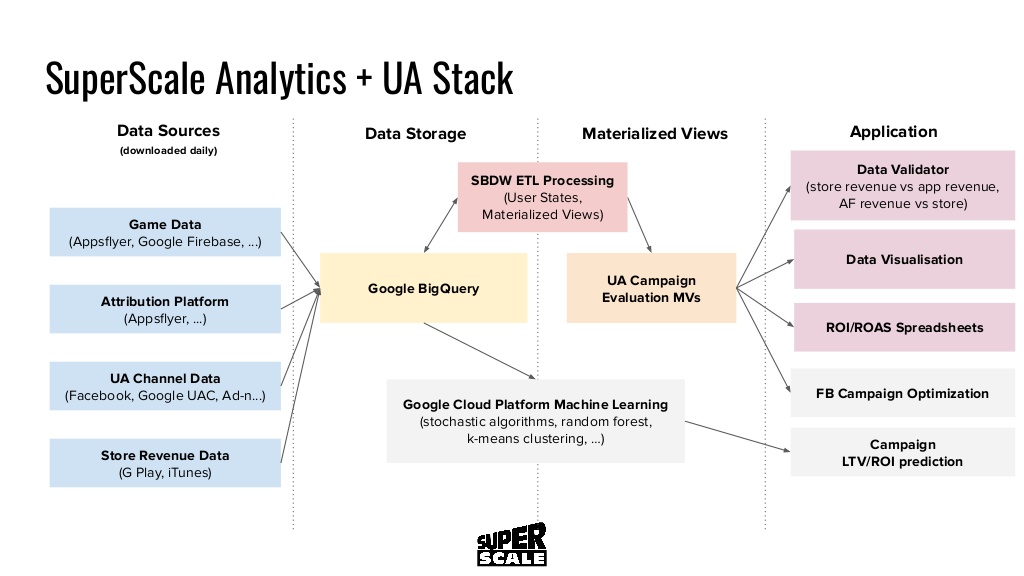 16. USER ACQUISITION FOCUSED ON LTV ON STEROIDS
Speaker: Przemyslaw Modrzewski, Google
Przemyslaw Modrzewski from Google presented new possibilities for UAC, specifically Feature Selection methodology. We learned, for example, how to use statistics and ML for a better UA with Feature Selection. It basically focuses on multiple events at the same time, usually on those that lead, for example, to buying based on user behavior (spending of gems, speed-ups, level 6…).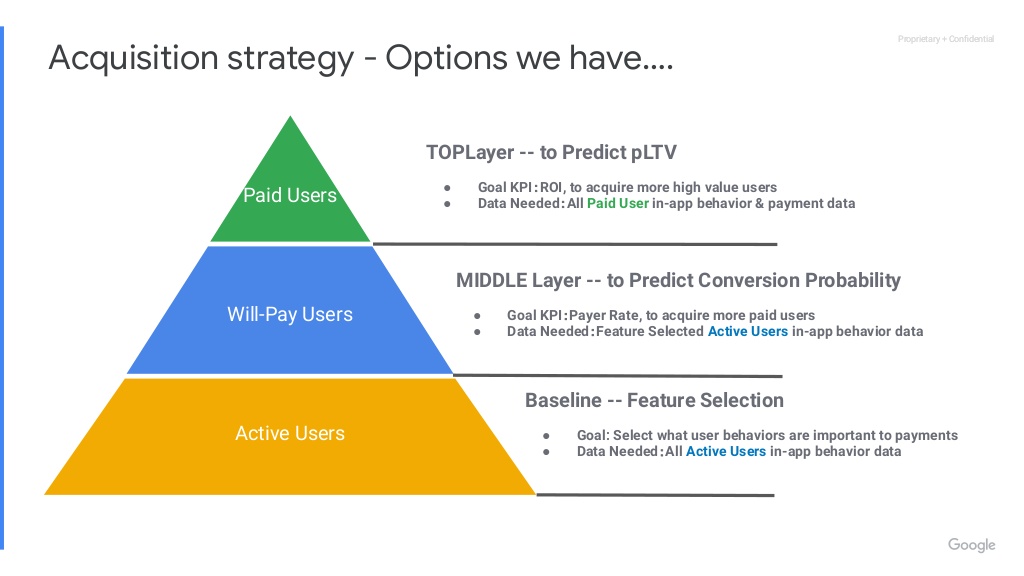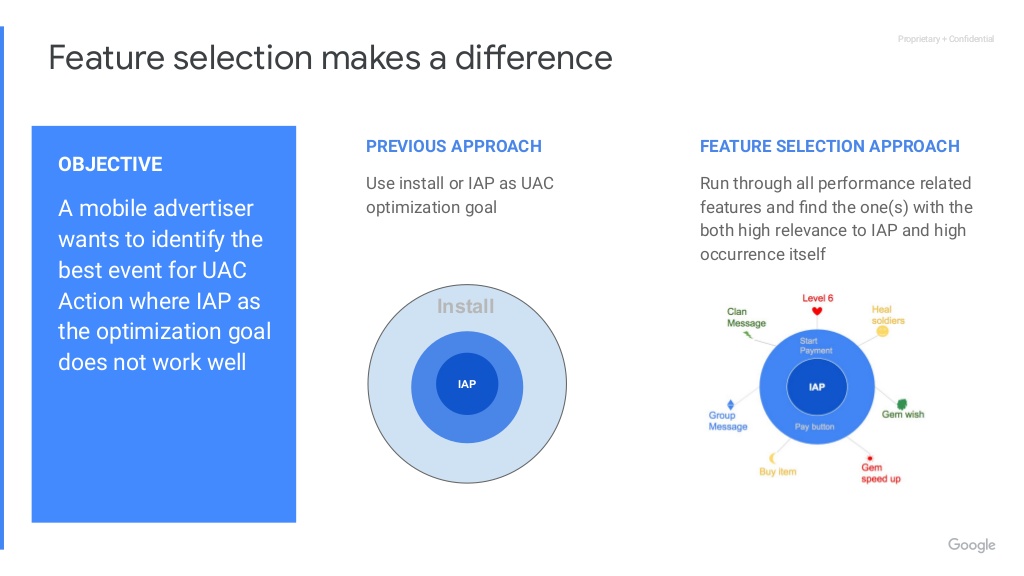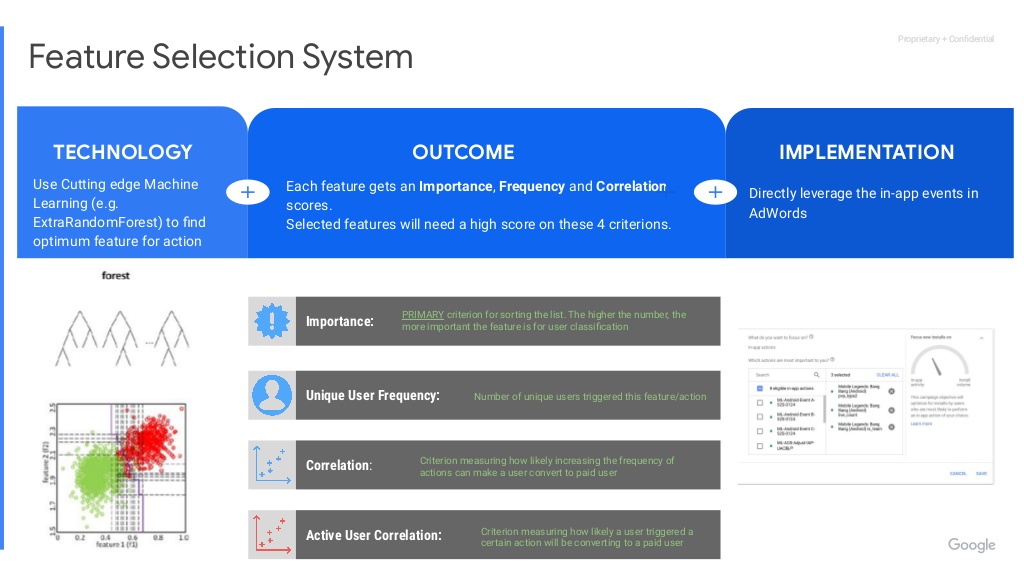 17. BIG PROBLEM, BIGQUERY: USER FEATURE ENGINEERING IN EVENT-DRIVEN ANALYTICS
Speaker: Mikalai Tsytsarau, DELVE
The presentation was focused on event analysis (using firebase + BigQuery + AutoML). In Delva, they send several million events per day from the firebase to the bigquery and then use AutoML. They try to find out whether a player will be a payer or a non-payer based on their behavior in the game. They find out that AI is looking for similar events between new players and those produced by payers. Firebase itself offers the possibility to turn on such predictions.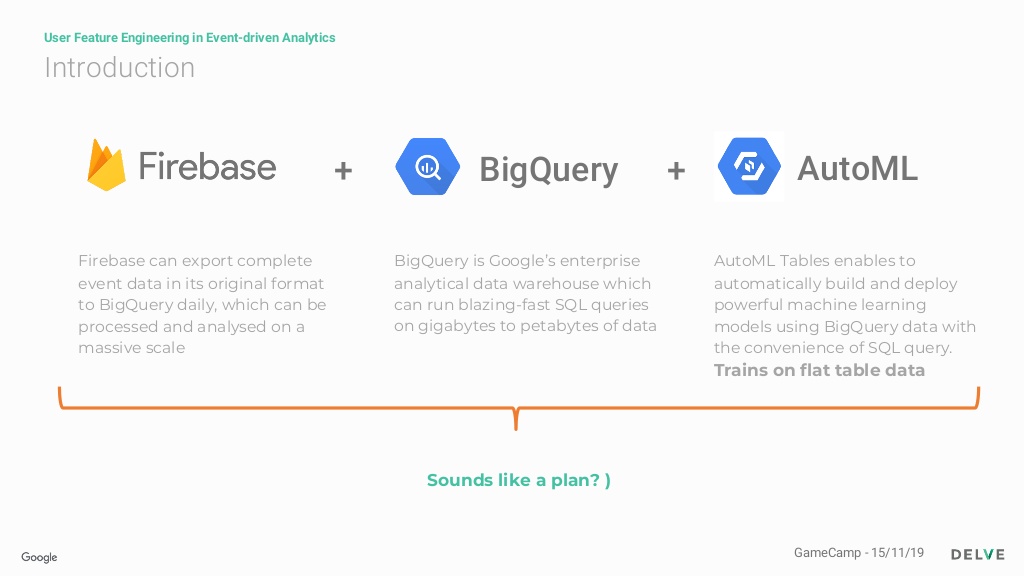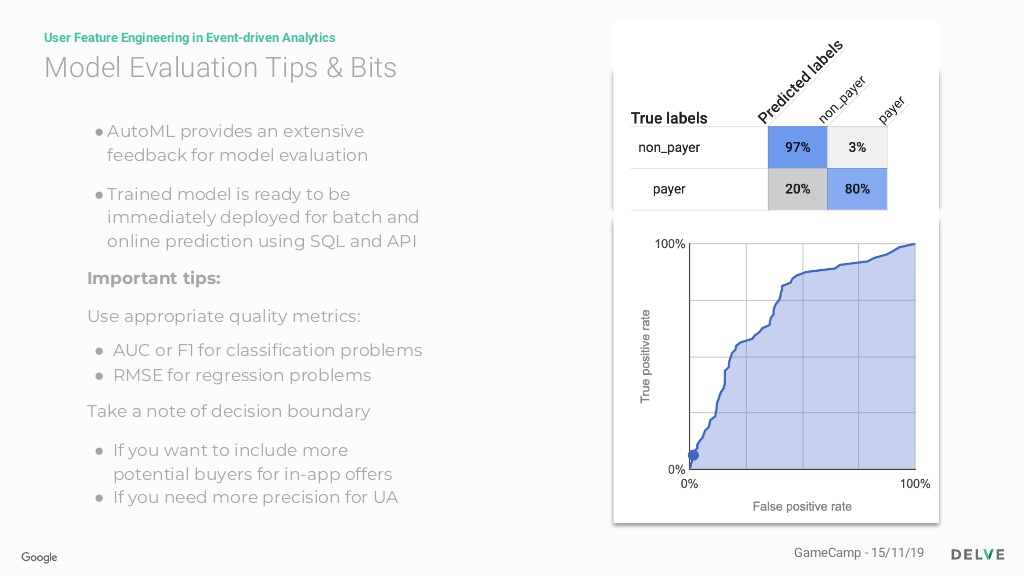 18. LTV MEASUREMENT AND MULTI-TOUCH ATTRIBUTION
Speaker: Clara Copeland, AppsFlyer
Appsflyer attributes on last click, that is, the user is assigned to the last clicked ad network, but we can go deeper with Appsflyer on multitouch attribution, as some ad networks contribute more to certain behaviors than others at the beginning of the funnel.
19. PANEL DISCUSSION: FUTURE OF GAMING
Finally, there was a panel discussion on the future of gaming featuring Christian Calderon of GameJam, Eitan Reisel of Game Investor, Piotr Marzec of Google and Sebastian Szczygiet of Huuuge Games.